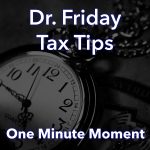 Dr. Friday 0:00
Good day. I'm Dr. Friday, president of Dr. Friday Tax and Financial Firm. To get more info go to www.drfriday.com. This is a one-minute moment.
Dr. Friday 0:12
Changes to the educational credits. The repeal of the CA under the 2200 deduction for qualified tuition and related expenses. Instead it increased the phase out limits to lifetime tax credits to 80,000 for head of household or single and 160,000 for married filing jointly. Again, this all started as a December 31, 2020. So in the year of 2021, even if you didn't qualify last year or the year before in the year of 2020, you might qualify in the year of 2021. Don't just think because you didn't qualify once that you won't qualify again. Check your taxes.
Announcer 0:51
You can catch the Dr. Friday call-in show live every Saturday afternoon from 2 pm to 3 pm right here on 99.7 WTN.