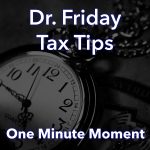 Dr. Friday 0:00
Good day. I'm Dr. Friday, president of Dr. Friday Tax and Financial Firm. To get more info go to www.drfriday.com. This is a one-minute moment.
Dr. Friday 0:12
The 2021 recovery rebate credit also thought of as the stimulus was something that they gave us an impact for the economic hardship people were facing. This is the third payment. It is $1,400 for a single, $2,800 for married filing jointly, and 14 for each dependents. No matter what that dependent was. It could have been an adult it could have been a grandparent. Either way what you have it might have been now the limitations is $80,000 for single 120 for head of household and 160 for married couples. So if you didn't qualify for that, because of your 2020 taxes, you will qualify possibly 2021.
Announcer 0:51
You can catch the Dr. Friday call-in show live every Saturday afternoon from 2 pm to 3 pm right here on 99.7 WTN.