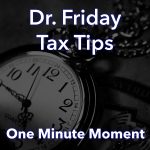 Dr. Friday 0:00
Good day. I'm Dr. Friday, president of Dr. Friday Tax and Financial Firm. To get more info go to www.drfriday.com. This is a one-minute moment.
Dr. Friday 0:13
EIC, earned income credit without children. Did you realize that if you are someone that may not be making a lot of money, so if you're a single person without children and you make less than 21,000, or married person without children make less than $27,000 then you might qualify for the earned income credit. This is something that they will give you as an advance payment to help pay. It is a workout of about 15.3%, and that could give you up to $1,502 in additional funds. So if you're having a hard time and you're like, "I can't find a job I can't find a way at work." Maybe filing your taxes will put a few dollars in your pocket.
Announcer 0:51
You can catch the Dr. Friday call-in show live every Saturday afternoon from 2 pm to 3 pm right here on 99.7 WTN.