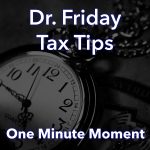 Dr. Friday 0:00
Good day. I'm Dr. Friday, president of Dr. Friday Tax and Financial Firm. To get more info go to www.drfriday.com. This is a one-minute moment.
Dr. Friday 0:12
The child independent deduction for 2021 was fully deductible. That means you get dollar for $1 deduction up to $3,000 per child, if they're over the age of six and 3500, if they're under. The limitations are that if a single person's AGI is over 80,000 or married couples, it's over 160 you will not qualify for those credits. So just make sure again, doing your taxes, make sure that if you're doing them yourself, read the questions make sure they apply if you've got a 17 year old that's filing their own taxes, even though they're only 17. It may not mean that you get any credit for them. Check your numbers.
Announcer 0:51
You can catch the Dr. Friday call-in show live every Saturday afternoon from 2 pm to 3 pm right here on 99.7 WTN.