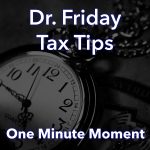 Dr. Friday 0:00
Good day. I'm Dr. Friday, president of Dr. Friday Tax and Financial Firm. To get more info go to www.drfriday.com. This is a one-minute moment.
Dr. Friday 0:12
If you're doing your own taxes, you may have found a couple of new forms. In 2021 partnerships and S corporations have a couple of new schedules, we have a K2 that now is going to show the distributions. We have a K3 on 1065. That's going to show additional deductions in income and credits. A K2 under 1120 S. Again showing ratios to deductions and we have the K3 that's also going to be showing deductions so this will be on 1065, the 1120s, and the form 8865. So if you perform or do taxes, make sure you notice we've got a few changes.
Announcer 0:51
You can catch the Dr. Friday call-in show live every Saturday afternoon from 2 pm to 3 pm right here on 99.7 WTN.