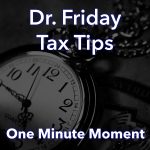 Dr. Friday 0:00
Good day. I'm Dr. Friday, president of Dr. Friday Tax and Financial Firm. To get more info go to www.drfriday.com. This is a one-minute moment.
Dr. Friday 0:12
Many of you may have found when you're preparing your own tax returns, that there's a new form also, really, it's more of an updated form an 8812, Is the credit for qualified children and dependents, it's going to be a bit longer, and they're going to ask you a bit more questions and also going to confirm information about who should be claiming this child. So if you're claiming a child that is not a direct descendant of yours or a child that you're not legally allowed to claim, you're going to be asking a lot more questions here that you might find a little bit harder to take a child that's not yours. Remember, if that child does not live with you for six months and one day by the IRS standards, that child is not your dependent.
Dr. Friday 0:51
You can catch the Dr. Friday call-in show live every Saturday afternoon from 2 pm to 3 pm right here on 99.7 WTN.