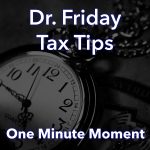 Dr. Friday 0:00
Good day. I'm Dr. Friday, president of Dr. Friday Tax and Financial Firm. To get more info go to www.drfriday.com. This is a one-minute moment.
Dr. Friday 0:12
My name is Dr. Friday. I'm an enrolled agent licensed by the Internal Revenue Service to do taxes and representation. I've been doing this for 20 plus years. And the one thing about me is I'm a local guy. You can hear a lot of people on the radio and many of them when you talk to him, you'll find out there in other states, you'll never get a face to face. And if you're having IRS issues, you need someone that's going to be there when you need them, not have to leave a message and hope that you can do a FaceTime with them. If you need help, and you want to have an expert that's been doing this for quite a few years, you need to call my office at 615-367-0819 or check me out on the web, and you'll find out a lot more about Dr. Friday.
Dr. Friday 0:51
You can catch the Dr. Friday call-in show live every Saturday afternoon from 2 pm to 3 pm right here on 99.7 WTN.