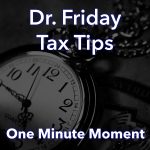 Dr. Friday 0:00
Good day. I'm Dr. Friday, president of Dr. Friday Tax and Financial Firm. To get more info go to www.drfriday.com. This is a one-minute moment.
Dr. Friday 0:12
Charitable contributions. You guys are now in there preparing your taxes, you're getting ready to hit the send button. Don't forget that when I talk about charitable contributions, it has to be cash. If you're going to do above-the-line charitable contributions. That means you're taking the standard deduction, and then an additional 300 for single or 600 for married. It does not include if you went and gave clothes or you did food or those wonderful things. This only has to do with cash. Make sure that you're taking the tax law and doing it correctly. The last thing you want to do is get a few dollars now on your tax return and pay later with penalties and interest.
Announcer 0:51
You can catch the Dr. Friday call-in show live every Saturday afternoon from 2 pm to 3 pm right here on 99.7 WTN.