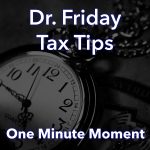 Dr. Friday 0:00
Good day. I'm Dr. Friday, President abductive Friday tax and financial firm. To get more info go to www. Dr. friday.com. This is a one-minute moment.
Dr. Friday 0:12
And many of you are coming in and saying, "Should I file my 2021 because I still haven't received my tax refund from 2020." The IRS did come back and tell us back actually in late, late November, that they had about 6.8 million 2020 individual tax returns to still do and that was compared to about 7.8 a month earlier. So at this point, they're making a million a year a month, excuse me, then it's still going to be a while before. So my suggestion is to file your 2021 we can deal with your 2020 even if you'd haven't gotten it yet they will be paying interest. If you have money. Coming back to your pocket.
Announcer 0:51
You can catch the Dr. Friday call-in show live every Saturday afternoon from 2 pm to 3 pm right here on 99.7 WTN.