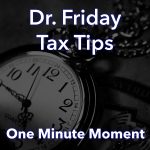 Dr. Friday 0:00
Good day. I'm Dr. Friday, President abductive Friday tax and financial firm. To get more info go to www. Dr. friday.com. This is a one-minute moment.
Dr. Friday 0:13
If you are an individual here and you're trying to get your tax numbers and you're filing under a form called a W 7, the IRS has come back and said they have a huge backlog on that. And for individuals that may not have been born in the United States or received a social security number, this is the form that you would file to obtain a social security number for the ability to file taxes. And this is what you're going to need if you're trying to get citizenship at some point and that W7 is now being backlogged. So just be prepared. You may have to worry about an extension or filing some additional documentation, but it will come through and then we'll be able to file your taxes. Call me later.
Dr. Friday 0:51
You can catch the Dr. Friday call-in show live every Saturday afternoon from 2 pm to 3 pm right here on 99.7 WTN.