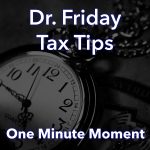 Dr. Friday 0:00
Good day. I'm Dr. Friday president of Dr. Friday's tax and financial firm. To get more info go to www.drfriday.com. This is a one minute moment.
Dr. Friday 0:13
A question that came in says, "I've retired last year and started receiving Social Security payments. Do I have to pay tax on my Social Security benefits?" Assuming that this person has retired at their full retirement age, and they don't have any other income, the answer would be no. I have to pay tax on my Social Security benefits Social Security is only taxed when you have other income. But if they have retirement, pensions, stock sales, dividends, any of those things, then they could have taxes up to 85% of their Social Security benefits. It's very important to put it on. I've had no more than one case where someone did not think Social Security was taxable at all. If you need help, set up an appointment at drfriday.com.
Announcer 0:52
You can catch the Dr. Friday call-in show live every Saturday afternoon from 2 pm to 3 pm right here on 99.7 WTN.