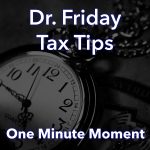 Announcer 0:00
Good day. I'm Dr. Friday president of Dr. Friday's tax and financial firm. To get more info go to www.drfriday.com. This is a one minute moment.
Dr. Friday 0:12
Today, the last day of January, you should have your W 2's completed, your 940's, your 941's, your final state unemployment, and your 1099's. If you haven't completed those forms, theoretically we may have until February 1 on a few of them, but it's time to make sure you're on top of it. There are serious fines and penalties if you do not provide these on time to your employees and subcontractors. You don't want to be caught in that cycle. It's easy enough to do if you need help filing these forms. You can call our office today at 615-367-0819 or check us out on the web set up an appointment at drfriday.com.
Announcer 0:52
You can catch the Dr. Friday call-in show live every Saturday afternoon from 2 pm to 3 pm right here on 99.7 WTN.