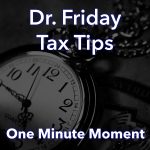 Dr. Friday 0:00
Good day. I'm Dr. Friday, President of Dr. Friday's Tax and Financial firm. To get more info go to www.drfriday.com. This is a one-minute moment.
Dr. Friday 0:12
And I am here to help you. I've been doing it for the last 20 years, the last 12 years here on this radio station. And if you have problems, you're getting love letters; you're overwhelmed because something has happened, and you're unsure which way to go. When it comes to taxes. I'm the person that can help you. It's not that hard to get ahold of me. You can simply either pick up the phone at 615-367-0819. You can email me. It's very easy. It's friday@drfriday.com. Or you know what, just check me out on the web. It'll tell you some of the services I offer and how I might be able to help you, and that's Dr. friday.com.
Announcer 0:51
You can catch the Dr. Friday call-in show live every Saturday afternoon from 2 pm to 3 pm right here on 99.7 WTN.