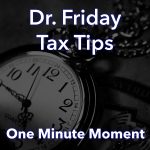 Dr. Friday 0:00
Good day. I'm Dr. Friday, President of Dr. Friday's Tax and Financial firm. To get more info go to www.drfriday.com. This is a one-minute moment.
Dr. Friday 0:12
And I forgot to tell some people, and I realized when I was doing taxes that one of the things that changed in 2021 is that we had a 100% meals deduction. They were trying to encourage business owners to go out and meet clients and try to use those businesses to give them more money in the small business sector. And so they allowed us a 100% meal instead of 50. And so again, sometimes knowing these little things can put more money in your pocket. Make sure that you understand what tax laws are gonna affect you because there are a lot of them out there and sometimes you get bogged down with the things that aren't important. If you need help. Go to the website, drfriday.com.
Dr. Friday 0:51
You can catch the Dr. Friday call-in show live every Saturday afternoon from 2 pm to 3 pm right here on 99.7 WTN.