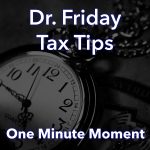 Dr. Friday 0:00
Good day. I'm Dr. Friday, President of Dr. Friday's Tax and Financial firm. To get more info go to www.drfriday.com. This is a one-minute moment.
Dr. Friday 0:12
Estates of the deceased who have died in 2022 have a basic exclusion of $12,060,000 up 11,700 from the estate deceased who died in 2021. So in most cases, you don't have a state tax, and you most likely don't have an inheritance tax. And remember, in many cases, you also have a step up in the basis for real estate and stock. So make sure if you've got questions, you talk to an attorney to make sure the documents are in order. If you've got tax questions, you need to call me at 615-367-0819.
Announcer 0:51
You can catch the Dr. Friday call-in show live every Saturday afternoon from 2 pm to 3 pm on 99.7 WTN.