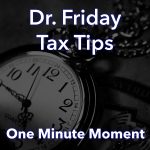 Dr. Friday 0:00
Good day. I'm Dr. Friday, President of Dr. Friday's Tax and Financial firm. To get more info go to www.drfriday.com. This is a one-minute moment.
Dr. Friday 0:12
For all of you that love to kind of help out maybe do some estate planning by gifting funds to stock portions of estates to your descendants. Then remember we went up from $15,000 to $16,000 the gift tax and 2022 or the gift exclusion is $16,000. That doesn't mean you can't give somebody 200,000 But there would be some tax forms most likely no taxable dollars due. But if you've got questions about gifting money, or how it works, all you have to do is pick up the phone i'll be here for you. Call 615-367-0819.
Announcer 0:51
You can catch the Dr. Friday call-in show live every Saturday afternoon from 2 pm to 3 pm on 99.7 WTN.