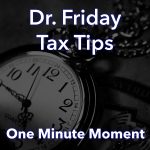 Dr. Friday 0:00
Good day. I'm Dr. Friday, President of Dr. Friday's Tax and Financial firm. To get more info go to www.drfriday.com. This is a one-minute moment.
Dr. Friday 0:13
Adaption. One of the best things I think people can do when it comes to maybe helping out or just making changes in life. Adopting a child is something I always give people a lot of credit for. The maximum credit for adopting, believe it or not, there is something on the tax code 2022 qualified adoptions expenses went up to 14,890. That was up from 14,440 in 2021. This is a credit that can offset your taxes, and it will roll forward if you still don't use it all in one year. You can use it in multiple years. Call me at 615-367-0819.
Announcer 0:51
You can catch the Dr. Friday call-in show live every Saturday afternoon from 2 pm to 3 pm on 99.7 WTN.