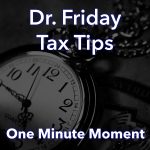 Dr. Friday 0:00
Good day. I'm Dr. Friday, President of Dr. Friday's Tax and Financial firm. To get more info go to www.drfriday.com. This is a one-minute moment.
Dr. Friday 0:12
And this is a reminder for many of you that maybe you had a big event in which you sold something that's caused a large amount of taxes due or if you're self-employed. Today is our fourth payment. This is the fourth estimated payment we need to make, or again if you haven't filed any estimates, now's the time to throw as much as you can into the pot. So January 16th, make your estimated payment you can do that. online@irs.gov, click pay, you can print out a voucher called a 1040 ES, or your tax person may have already provided it, and you need to mail it and make sure it's marked today's date. If you've got a question, go to Dr. friday.com.
Announcer 0:51
You can catch the Dr. Friday call-in show live every Saturday afternoon from 2 pm to 3 pm on 99.7 WTN.