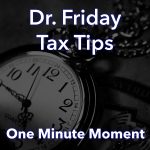 Dr. Friday 0:00
Good day. I'm Dr. Friday, President of Dr. Friday's Tax and Financial firm. To get more info go to www.drfriday.com. This is a one-minute moment.
Dr. Friday 0:12
If you're interested in claiming the tax credit available under Section 30 D for the EV credit for purchasing a new electric vehicle after August 16, 2022. A tax credit is generally available only for qualified electrical vehicles from which assembly occurred in North America. This is really important. You need if you're going to be doing this, you need to go on to irs.gov and pull up under there the credits available for EV because if the car was not assembled in the United States, if some of the parts didn't qualify or if they have over 200,000 cars on the road, you might not get that tax credit.
Announcer 0:51
You can catch the Dr. Friday call-in show live every Saturday afternoon from 2 pm to 3 pm on 99.7 WTN.