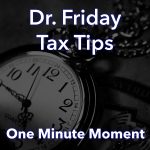 Dr. Friday 0:00
Good day. I'm Dr. Friday, President of Dr. Friday's Tax and Financial firm. To get more info go to www.drfriday.com. This is a one-minute moment.
Dr. Friday 0:12
Pre-inflation Reduction Act of 2022. I'm pretty sure they should probably rename that one because I don't think it had a whole bunch to do with inflation. That being said, they do have in there the vehicle purchase and delivery prior to January 1, 2023. How is that going to be relevant for every car? It's important that vehicles are acquired after December 30, 2009, but before December 31, 2022. If you don't know what I'm talking about, you need to be calling me because if you've got an EV, we want to get you the tax credit. Call 615-367-0819.
Announcer 0:51
You can catch the Dr. Friday call-in show live every Saturday afternoon from 2 pm to 3 pm on 99.7 WTN.