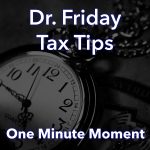 Dr. Friday 0:00
Good day. I'm Dr. Friday, President of Dr. Friday's Tax and Financial firm. To get more info go to www.drfriday.com. This is a one-minute moment.
Dr. Friday 0:12
Tennessee tax relief for severe storms, straight-line winds, and tornadoes. We did have an event that happened for victims that fell into that on May 16, 2022. So if you have a disaster that's happened, maybe you had hail damage, wind damage, severe storms, and the IRS or the federal government said they wait, this is what we're gonna consider a victim of federal storms, then you might qualify for some tax credits to fix your house or your property. Call us if you have questions. 615-367-0819.
Announcer 0:51
You can catch the Dr. Friday call-in show live every Saturday afternoon from 2 pm to 3 pm on 99.7 WTN.