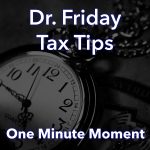 Dr. Friday 0:00
Good day. I'm Dr. Friday, President of Dr. Friday's Tax and Financial firm. To get more info go to www.drfriday.com. This is a one-minute moment.
Dr. Friday 0:13
Many people, actually surprising how many people actually work overseas. And remember for the 2022 tax year the Foreign Income Tax Exclusion is 112 up from 108 in 2021. So if you work and lived outside the United States for 365 days and have not returned for more than two weeks within that period to the United States, then you may be able to qualify for this exclusion, and then you will file the proper tax documents. If you need help with your taxes or need to book a tax appointment. You need to go to the webinar Ddrfriday.com.
Announcer 0:51
You can catch the Dr. Friday call-in show live every Saturday afternoon from 2 pm to 3 pm on 99.7 WTN.