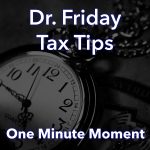 Dr. Friday 0:00
Good day. I'm Dr. Friday, president of Dr. Friday Tax and Financial Firm. To get more info go to www.drfriday.com. This is a one minute moment.
Dr. Friday 0:12
What do you do when you receive a love letter from the Internal Revenue Service? it may tell you that there's a balance due, or that there's a smaller even a large refund coming back. It can be that your identity has been compromised. Sometimes those letters are not as scary as you think. But many times they do say the words like lien and levy. So what you need to do is do not throw it into the drawer. Give me a call, and set up an appointment with somebody like myself an enrolled agent licensed with the IRS to do representation. Let us help you get yourself out of trouble and back on track. If you need help, call me at 615-367-0819.
Announcer 0:52
You can catch the Dr. Friday call-in show live every Saturday afternoon from 2 pm to 3 pm right here on 99.7 WTN.