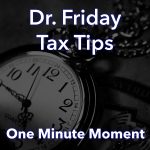 Dr. Friday 0:00
Good day. I'm Dr. Friday, president of Dr. Friday Tax and Financial Firm. To get more info go to www.drfriday.com. This is a one minute moment.
Dr. Friday 0:12
Home office. You know, for many years, we've been taking home office for small businesses as a deduction. But coming about five years ago or so they came up with a simplified system. And I noticed that a lot of people don't really know. There's the standard deduction, which is $5 per square feet up to 300 square feet. That way, you don't have to worry about taking the square footage of how much utilities were, your mortgage interest, your property taxes, all these different things. All that is straight out five times up to 300 square feet. You might want to find a simplified manner, its a little bit easier. Call me if you've got questions at 615-367-0819.
Announcer 0:52
You can catch the Dr. Friday call-in show live every Saturday afternoon from 2 pm to 3 pm right here on 99.7 WTN.