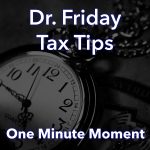 Dr. Friday 0:00
Good day. I'm Dr. Friday, president of Dr. Friday Tax and Financial Firm. To get more info go to www.drfriday.com. This is a one minute moment.
Dr. Friday 0:12
Some of our popular deductions and credits did change last year. Remember dependent exemptions? Gone. That was the $4,050 for each person that was a qualified child in your household. Instead, children under the age of 17 now qualify for a child tax credit, which is $2,000, not $1,000. Again, that went up. Many people are going to be able to use more of that because they are phasing out at higher income brackets. So make sure you're looking at all your tax deductions. Don't leave any money on the table if you need help. Call 615-367-0819 or go to my website, which is Drfriday.com.
Announcer 0:52
You can catch the Dr. Friday call-in show live every Saturday afternoon from 2 pm to 3 pm right here on 99.7 WTN.