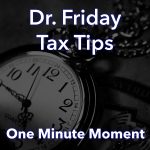 Dr. Friday 0:00
Good day. I'm Dr. Friday, president of Dr. Friday Tax and Financial Firm. To get more info go to www.drfriday.com. This is a one minute moment.
And it's tax day. That's right for business owners that own an entity corporation 1120 1120s 1065. You are all due today. So if you haven't filed, you don't have them completed. At this point, you need to make sure an Extension has been filed and I keep telling you it is not your preparer's responsibility to make sure it's done. It's your job to make sure they have done it. If you're one of my clients, please confirm today via email at friday@drfriday.com or call our office direct at 615-367-0819. Make sure your extension has been filed so that way there are no penalties they can assess.
Announcer 0:51
You can catch the doctor Friday Collin show live every Saturday afternoon from 2 pm to 3 pm right here on 99.7 WTN.