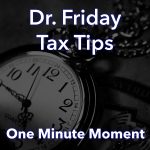 Dr. Friday 0:00
Good day. I'm Dr. Friday, president of Dr. Friday Tax and Financial Firm. To get more info, go to www.drfriday.com. This is a one minute moment.
And we've got a big deadline come Monday. If you have an LLC, a corporation, a partnership, or any type of separate entity pretty much that operates, then you need to be filing your taxes come Monday, the 16th of March, 2020. So if that's the case, you need to either be filing an extension today or you need to make sure those taxes are completed.
If you need help with that, at least the extension, you need to call my office at 615-367-0819. You can also email me friday@drfriday.com and we'll see if we can help you at least get an extension file so we can save you tax dollars.
Announcer 0:51
You can catch the Dr. Friday Call-In Show live every Saturday afternoon from 2 pm to 3 pm right here on 99.7 WTN.