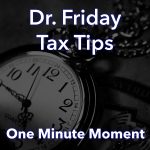 Dr. Friday 0:00
Good day. I'm Dr. Friday, president of Dr. Friday Tax and Financial Firm. To get more info go to www.drfriday.com. This is a one-minute moment.
Dr. Friday 0:13
Defining the difference between a business and a hobby. This is kind of important because many times people will be doing something on the side. And they basically enjoy doing it, which could be a business or a hobby, but they're really not out there peddling that business trying to turn it into a profitable entity. And the IRS sits back and says, "Hey, if you're going to basically truly make a business work, then you need to be showing proof that you're making the effort." Not every business is going to be profitable in the first three years, but the IRS feels if you're not making a profit or making the effort to make one guess what you're a hobby and tax laws are different.
Announcer 0:51
You can catch the Dr. Friday call-in show live every Saturday afternoon from 2 pm to 3 pm right here on 99.7 WTN.