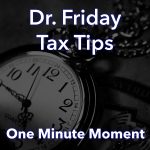 Dr. Friday 0:00
Good day. I'm Dr. Friday, president of Dr. Friday Tax and Financial Firm. To get more info go to www.drfriday.com. This is a one-minute moment.
Dr. Friday 0:12
Understanding tax rates. You know, we're always talking about taxes. And when people call me they're really wanting to figure out, "How much money do I own?" Remember, we're also in a progressive tax code. So when I say that we have tax rates of 10, 12, 22, 24, 32, 35, and 37. Does that mean as soon as the first dollar is going to be 12? And the first time I hit above that, it's going to mean immediately 22 and then 24? No, it doesn't. It means progressive, which means we're going to work our way up to those numbers as you're working through the system. So if you really want to understand how much money you're going to owe, you need to go to someone like myself and you can by calling.
Announcer 0:51
You can catch the Dr. Friday call-in show live every Saturday afternoon from 2 pm to 3 pm right here on 99.7 WTN.