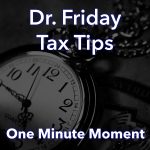 Dr. Friday 0:00
Good day. I'm Dr. Friday, President of Dr. Friday's Tax and Financial firm. To get more info go to www.drfriday.com. This is a one-minute moment.
Dr. Friday 0:12
And today, people is tax day. That's right. I know not everyone's excited about me but hey, it's been a long few months. We are happy today is tax day. And today, again, I just want to remind people if you have not filed your taxes, file an extension. It could save you 1000s of dollars by just filing that extension. Make sure because the IRS doesn't send you a love letter saying, "Oh, you have an extension on file." Make sure yTodaour extension has been accepted. If not, file it today. You can go to irs.gov following the extension you can call us at 615-367-0819. We can help you, or you can mail one. But make sure to file.
Announcer 0:51
You can catch the Dr. Friday call-in show live every Saturday afternoon from 2 pm to 3 pm on 99.7 WTN.