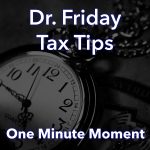 Dr. Friday 0:00
Good day. I'm Dr. Friday, President of Dr. Friday's Tax and Financial firm. To get more info go to www.drfriday.com. This is a one-minute moment.
Dr. Friday 0:12
And no, today is not tax day. Many people think it is. It is not. Tomorrow is tax day, but it is a day for prepping. That means if you have not filed your taxes yet, today is the day to file them or to make sure that you have an extension. There is a penalty for failure to file on time. So make sure that you have an extension filed, and if not, today is a perfect day to do that. If you've already got your taxes ready, not filing just because you can't afford to pay for them is not really a great reason. Better to file and then look at ways of making a resolution. If you need help, call 615-367-0819.
Announcer 0:51
You can catch the Dr. Friday call-in show live every Saturday afternoon from 2 pm to 3 pm on 99.7 WTN.