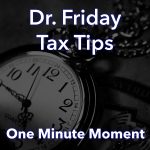 Dr. Friday 0:00
Good day. I'm Dr. Friday, President of Dr. Friday's Tax and Financial firm. To get more info go to www.drfriday.com. This is a one-minute moment.
Dr. Friday 0:13
In the past, we've always been able to find things like job hunting expenses, maybe being able to take off certain amounts of miles, or all these different things. And many of those things fill off in the 2018 tax year. So just remember, I always tell people, even though things have changed a little bit, don't forget to start or keep tracking that information. Prime example: charitable contributions. Now we have something above the itemizing that we're writing off. Who knows when they're going to add back this other information, so continue to track your miles or your medical or any of those things so that way you don't lose out on any tax deductions.
Announcer 0:52
You can catch the Dr. Friday call-in show live every Saturday afternoon from 2 pm to 3 pm on 99.7 WTN.