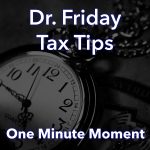 Dr. Friday 0:00
Good day. I'm Dr. Friday, President of Dr. Friday's Tax and Financial firm. To get more info go to www.drfriday.com. This is a one-minute moment.
Dr. Friday 0:12
Home equity loans. The Tax Cuts and Jobs Act of 2017 suspended from 2018 to 2025 the deduction of interest paid on a home equity loan or line of credit unless it was used to buy, build or substantially improve the taxpayer's homes that secured the loan. Under the new Act, for example, interest on a home equity line used to build an addition to your home is typically deducted but was part of the interest on that. But if you use it to pay off personal loans, and credit cards or maybe even use it to buy a second property, it is not a tax deduction under your personal loan interest. If you need help, give me a call at 615-367-0819.
Announcer 0:51
You can catch the Dr. Friday call-in show live every Saturday afternoon from 2 pm to 3 pm on 99.7 WTN.